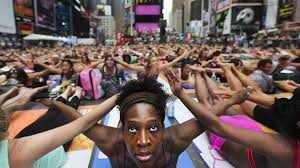 Embodied Yoga is a set of principles that helps with these questions:
- What can yoga teach me about myself and how I live?
- What matters most to me and how can yoga benefit this?
- What personal qualities would I like to develop in my yoga practice?
Embodied yoga emphasises personal insight and transfer of skills to life – rather than athleticism – and incorporates elements of life coaching, body therapy, meditation dance and martial arts. Embodied yoga is politically aware and avoids both new-age superstition and Western body materialism. Embodied yoga can be emotionally intense as it's a powerful tool for looking at your personal patterns and changing your life for the better, it's also more social than most yoga and a lot of fun. In some ways it's a very novel approach to yoga including things you won't find anywhere else, though it's also aligned with traditional yoga's emphasis on developing the practitioner.
Come if:
- you'd like to learn more about yourself and develop as a person
- you think the body has wisdom
- you're a yogi wishing to practice with a fresh perspective
- you'd like to shift skills from yoga into your life
- you're a yoga teacher looking to get new techniques for helping clients*
Date: 29th November, 9.15 for 9.30 start (no entry after 9.35), 5.30pm finish
Cost: £60 early bird/ bring a friend, £75 standard rate
To Register: Click here
Contact: mahashakiyoga@gmail.com
Venue: Glasgow TBC
NB – if you have current mental health issues, are suffering intense life stress or in some other emotionally vulnerable position please talk with us before signing up to see if the day is suitable
Nice things people have said about Embodied Yoga:
"Embodied Yoga reveals our limiting patterns with truly profound insight. What we avoid, and what we actually need to do to transform." – Anna Bluman, East London, UK
"Embodied Yoga offers a much needed fresh authentic perspective on yoga. Its not offering an opportunity to float off into spiritual la-la and distance oneself from life's suffering, on the contrary it encourages the participant to become fully aware and to take responsibility for what is going on in their body and mind, becoming aware of patterns and shadows in a safe supported environment." – Jane D, Sussex UK
"Embodied Yoga is a refreshing take on yoga as a method of self-enquiry and transformation. Highly effective for transforming your patterns of behaviour." – Sindre, Oslo, Norway
About Mark Walsh (Founder Embodied Yoga)
Mark has been a practitioner of movements arts for twenty years, including several years as a full-time aikido student. His main yoga influences are Scaravelli, Yin and Buddhist inspired teachers. He founded and runs several organisations which bring embodiment into business, to aid workers in war zones, and trains yoga instructors and facilitators in twenty countries annually. His YouTube channel has 8 Million hits and he's now getting self conscious about boasting and talking about himself in the third person so will leave it there.
About Jude Murray (hosting and technical support)
*you won't be qualified to teach embodied yoga classes after a one-day introduction but will walk away with skills and principles you can incorporate into your own classes